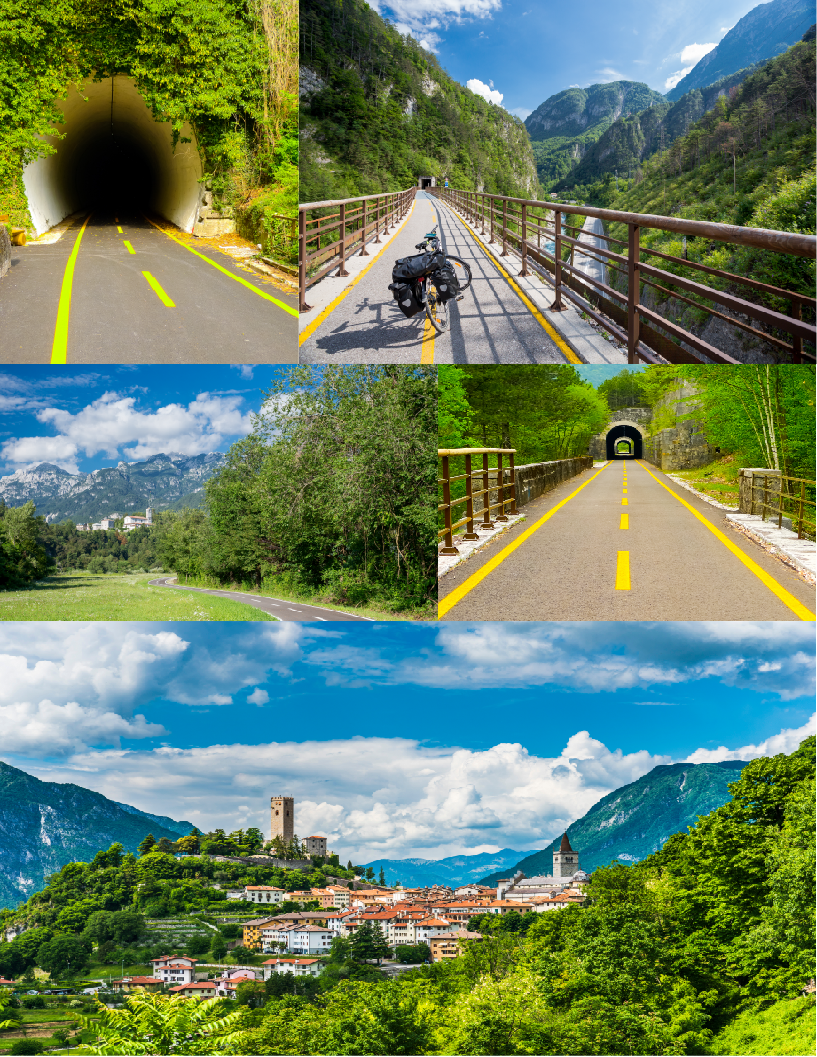 Some routes with breathtaking landscapes of Friuli.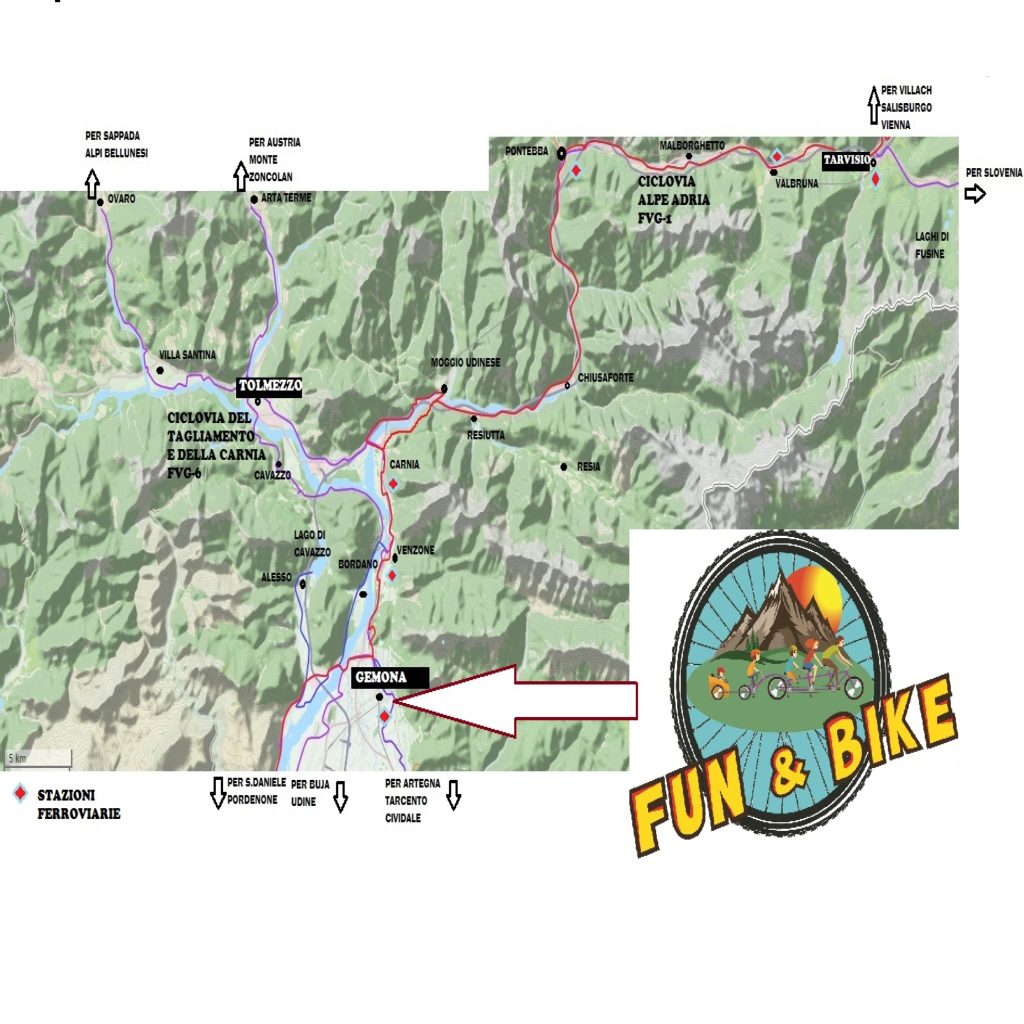 ALPE ADRIA CYCLE PATH – From Gemona to Tarvisio
This is the most famous path of our region that follow the track of the now unused railway, transformed into a breathtaking cycle path. Through viaducts and tunnels, you can discover Venzone, voted as the most beautiful village in Italy in 2017, Moggio Udinese, Chiusaforte, (where you can take a side trip to Sella Nevea and malga Montasio), Pontebba, Malborghetto, Valbruna and Tarvisio, when you can choose to continue towards Villach (Austria) or towards Kranjska Gora (Slovenia). It's an uphill path that although mild, is not advised for kids. Instead, this route is highly recommended in the opposite direction, taking the train to Tarvisio and then descending to Gemona. This trip is 70 Km so it is recommended taking your time to appreciate the unique beauty, doing it to over 2 days. It's most exclusively cycle path, except for a sector of 6 km that can be diverted in Moggio Udinese towards Campiolo and finishing, after a dirt route in the middle of a forest at Carnia railway station, when you meet the cycle path again.
TAGLIAMENTO AND CARNIA CYCLE PATHS – from Gemona to Tolmezzo
This path follows Tagliamento river until Tolmezzo, where you can continue towards Arta Terme to reach passo Mauria at the Austrian border. Alternatively, you can continue towards Villa Santina, Ovaro, Forni Avoltri and Sappada and then join the Cadore cycle paths. The main route is suitable for kids, given that is exclusively cycle path or country roads with low level traffic. It can be done in a day, or you can pause to enjoy the Carnia landscapes over several days. From Gemona you head towards Venzone on the cycle path; at Venzone you divert toward Pioverno and there starts the cycle path to Tolmezzo.
ONE DAY AT CAVAZZO LAKE
This is an easy path suitable for kids on the beautiful alpine Cavazzo Lake. From Gemona take the cycle path to Venzone then divert toward Pioverno and then Bordano, where you can visit the "Butterfly House", Braulins, Trasaghis, Alesso and long last, Cavazzo Lake. Here, your kids can enjoy the playground, observe the animals or simply do a boat trip. It's about 35 Km return trip, and clearly you can do it over several days, maybe staying at the campings or hotels in the area.
The described routes are just some of the many opportunities that you enjoy in our region. Gemona is centrally located; it is possible to continue toward San Daniele until Lignano, following the route of Tagliamento river; or follow the routes toward Tarcento and then to continue toward Cividale and Slovenia; or to reach Udine through IPPOVIA del CORMOR, and then the fantastic star-shaped ancient city of Palmanova and then the sea of Grado.
If you are mountain lovers you have so much choice: malga Cuarnan, mount San Simeone, Sella Nevea, malga Montasio or mithycal mount Zoncolan. With our bikes mountains are not just for professionals.
Our region is served by trains with bike places; it is very simple to organize your bike holiday, using trains to move from one area to another, when needed. TAKE ADVANTAGE…YOU'LL NEVER FORGET THE EXPERIENCE.