Our bikes are at your disposal from half day to whatever amount of time you require. We have mountain bikes for adults and children of all ages, touring bikes and e-bikes for long distances for mountain tracks, cycle paths and dirt roads.
We offer seasonal packages for all hire bikes offered with great discounts. At the end of this page you'll find all prices,including special savings compared to half day rental.
In addition to the bikes, a children's trailer, a children's bar, a pet's trailer, a bag's trailer and child seats are available.
Last but not least, we offer many accessories such as travel bags, pumps, bike repair tools, power banks and much more which you will find in our store.
PRICES

Below is a table of the prices. Please note that to rent our bikes, an ID and fiscal code (alternatively passport or driver's licence) will be required. Please note that only international credit cards VISA or MASTERCARD (no debit cards or prepaid cards) with raised numbers showing the same name as shown on the id documents above will be acceptedfor e-bikes deposit. It will be necessary to sign a rental contract, its clauses and its attachments. You can read "General Terms" at the end of the "INFO" page.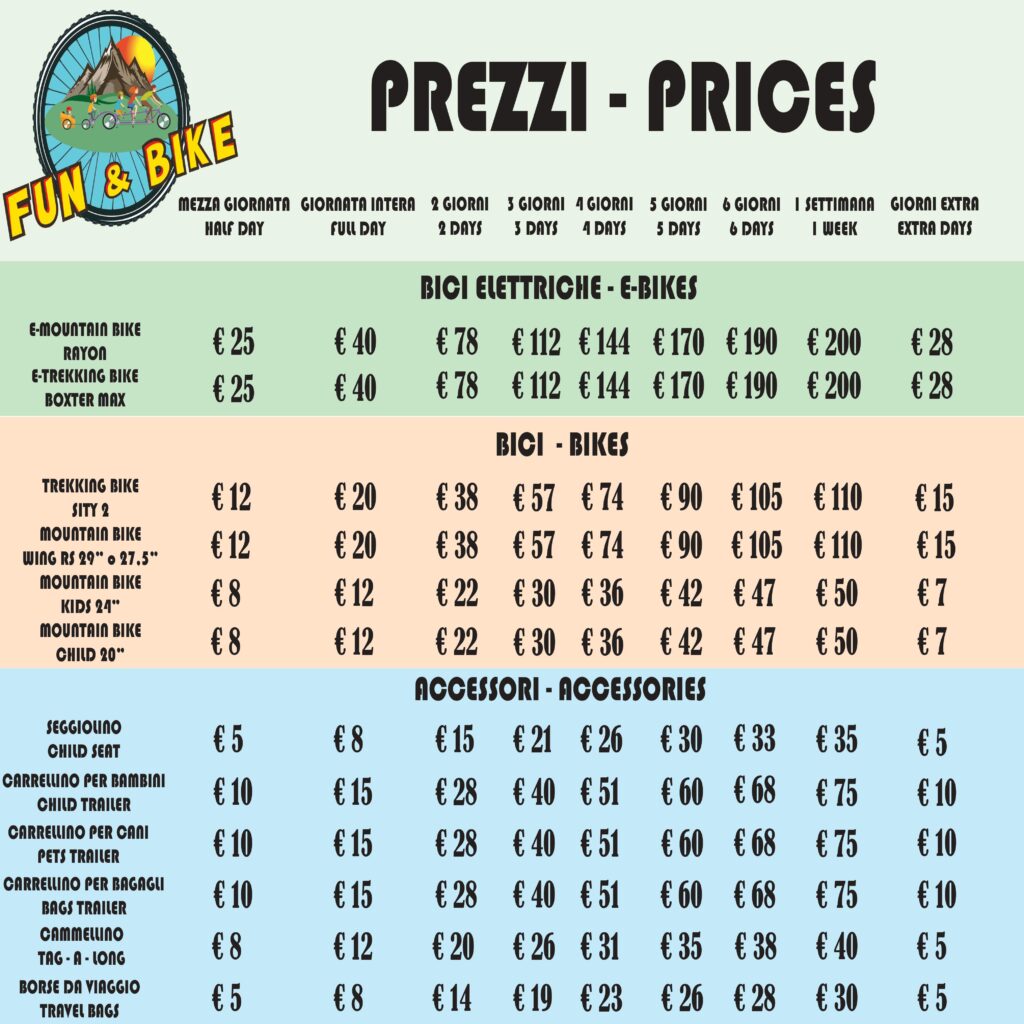 For all rentals of at least 1 day a handlebar bag will be provided free of charge; it contains a puncture kit, portable bike repair keys and a pressurized air pump. All bikes will be equipped with a helmet and a lock, because SAFETY FIRST OF ALL.
SEASON TICKETS

Why buy a bike for your child when you can rent a pack from us, and use the bike whenever you want ? No difference if you need it for an hour or for a full day, the only sure thing is savings, a bike always in perfect conditions, no extra fees (except if you cause damage) and more space in your hour.
Our season tickets are not limited to kid's bikes; they are available for all our bikes in half-day packages. If you want to use them for a day or a week, no problem, simply we subtract the half-day still available.
The season ticket (excluding kids' bikes) allows use of the half-days only 6 times for saturdays, sundays or festive days and no more than 6 half-days during the months of June, July and August. The half-day booked in advance will not be refunded if cancelled. The rental of the bike included in the season ticket will be subject to availability. You can read "Season tickets rules" on the INFO page.
Season tickets prices: